NEWS
CBN Inserts Efficiently Turning Slewing Bearings
Why choose CBN inserts for turning the slewing bearing?
Bearings include rolling bearings, sliding bearings, deep groove ball bearings, etc. The bearing processing parts include roller table, outer circle, rib, inner hole, end face, etc.
Bearing steel is everywhere, widely used in transportation, wind power generation, metallurgical industry, petrochemical machinery and other fields, such as slewing bearing,
metallurgical bearing ( Also called GCr15 bearing) etc. The hardness of the slewing bearing after heat treatment is usually higher than HRC45, and the hooked part is usually
HRC55-62, so it is more difficult to process during the processing. Carbide tools and ceramic tools are not recommended.
After heat treatment, the workpiece may be deformed, so the machining allowance will be different according to the workpiece. Select the appropriate tool material and cutting
parameters according to the feedrate.
For example, LINKUT RNGN090300 is used for finishing slewing bearing, finishing roller table and endface, 42CrMo, HRC50-55, VC = 110m / min. Compared with ceramic inserts,
the cutting speed is higher than the ceramic tool, the tool life It is 7 times of the ceramic inserts, and the roughness is guaranteed.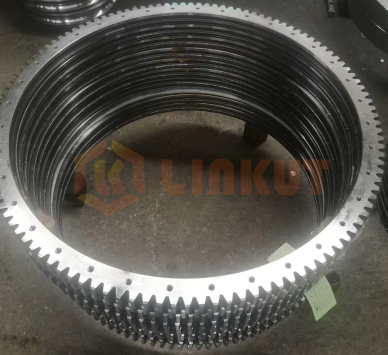 More Information Require? Feel free to contact with us!